The Cranford Historical Society was founded in 1927 by a group of Cranford citizens committed to preserving the unique history of this special place. The Society is a non-profit educational organization dedicated to educating the public through special events and school programs, building the collections and archives, and furthering public awareness of the importance of Cranford's history.
Our collection today includes photographs, scrapbooks, glass negatives, furniture, tools, kitchen and farm implements, Indian relics, books, letters and numerous other artifacts related to Cranford and its citizens. Our costume collection is considered by many experts to be one of the finest in New Jersey.
The restored Crane-Phillips House Living Museum attracts hundreds of visitors each year. "The Little House on the Rahway"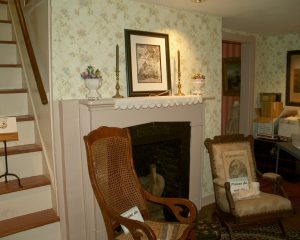 was first built around 1840 by Josiah Crane, Cranford's founder, as a two-room honeymoon cottage for his son, Josiah Crane Jr. Josiah Crane Jr. sold the property in 1867 to Henry and Cecelia Phillips, who lived there until Henry's death in 1911. It was the Phillips who renovated their house as the Victorian cottage we see today. It is an important example of the architectural style of Andrew Jackson Downing, America's first architect.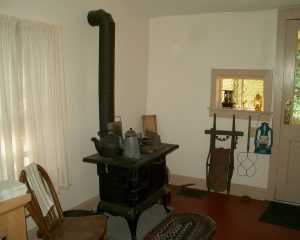 An interesting historical note is that Henry Phillips and his brother Charles, who lived in Connecticut, were successful innovators and businessmen of their day. Henry Phillips invented the kitchen range hood and his brother Charles developed the popular digestive aid, Phillips Milk of Magnesia.
The Crane-Phillips House Museum is on the National and State Registers of Historic Places and was named an "American Treasure" by the White House Millennium Council and the National Trust for Historic Preservation in 1999. It is one of several historic houses noted by the Cranford Historical Preservation Advisory Board.
The Cranford Historical Society is a 501(c)(3) nonprofit organization.
The Society exists through the help and generosity of its members. Members and trustees perform all Society and museum functions on a volunteer basis.
The Cranford Historical Society is involved in the following activities and more:
Costume and Textile Collection
Educational Tours for School and Scout Groups
Genealogical Research
Historic Preservation
Research Assistance
Research Library
Speaker's Bureau
Third Grade School Programs
Walking Tours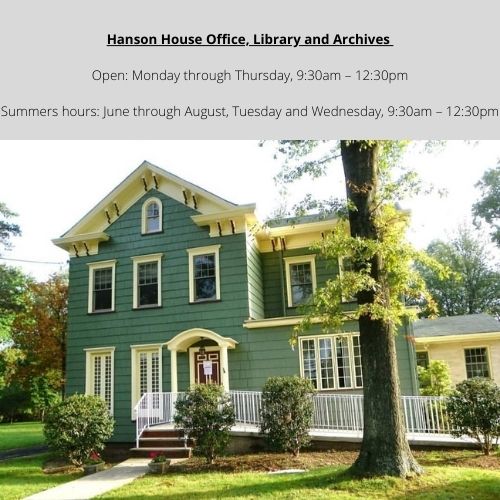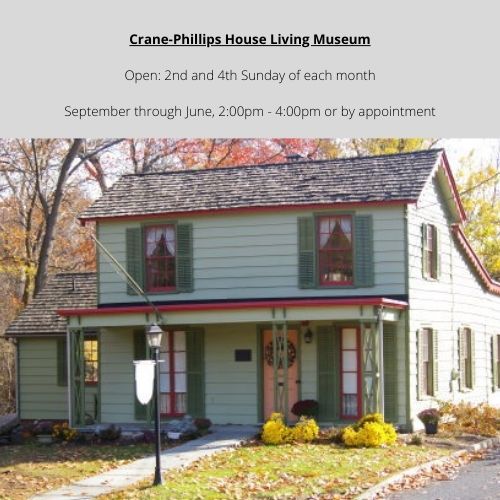 Officers
| | |
| --- | --- |
| Margaret Gerlach | President |
| Barbara Klaus | Vice-President |
| Charles Goodfellow | Treasurer |
| Maureen Wakeman | Recording Secretary |
Trustees
| | |
| --- | --- |
| John Dreyer – Chairman, Board of Trustees | Patricia Pavlak |
| Vic Bary | Lori Ricco |
| Margaret Gerlach | Cassy Roty |
| Charles Goodfellow | Donald Sweeney |
| Barbara Klaus | Irene Weiss |
| Debra Nicholls | Mary Wade |
| Jean Pascarella | Maureen Wakeman |
Departments
| | |
| --- | --- |
| Vic Bary | Archives Curator |
| Gail Alterman | Costume Curator |
| BJ Canedo | Office Administrator |
Emeritus Trustees
| | |
| --- | --- |
| Ira Dorian | Stephanie Williams |
| Larry Fuhro | Toni-Rae Fiorella |
| Sally Harrington | Hugh Delano |
| John Malar | Maribeth Lisnock |
| Ralph Marra | Bob Fridlington |
| Addie Vogel | Christine Glazer |
| Barbara Walker | William Curtis |
| Don Widdows |   |