Explore: Cranford Historical Society's Costume Collection
The Costume Collection of the Cranford Historical Society is unique in that its holdings reflect and represent the lives of everyday people.  Unlike our other collections, not everything in the Costume Collection was owned or worn by Cranford residents, though many objects are local in origin.  The majority of our holdings begin in the mid 19th c. and continue through the 20th c. and encompass both clothing and accessories.
Objects tell stories, and how better to understand how people lived than to study and preserve their clothing.  People whose bodies were the same as ours wore these objects, went about their daily lives and tasks in these garments and today they offer us a unique window into our past.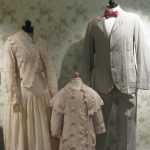 The pieces in the collection are cataloged and stored archivally.  They are never worn by a human body.  Every year, especially for "Four Centuries in a Weekend," different aspects of the collection are placed on display in the Crane-Phillips House.  The collection can be viewed by appointment.
The Costume Department also houses a unique collection of military uniforms.  Many of these represent the service of Cranford residents, as the collection grew out of the residents' desires to honor the service of family members.  The bulk of the uniforms date from World War I and continue through the Vietnam conflict.  Though the majority of the pieces are from men, the holdings include several women's American Red Cross uniforms as well as a complete costume from a WWI female ambulance driver as well as WAVE uniforms.  Many of these have been displayed in Veteran's and Memorial Day exhibits.  These may be viewed by appointment. 
Browse below some of the items contained in our collection.
*All images are the property of the Cranford Historical Society and may not be shared or distributed for personal use.