Do you like history and trivia and New Jersey? 
Join Fred Rossi as he shares some of the stories in his book, 
Jersey Stories: Stories You May Not Have Heard about People and Events in New Jersey History.
When:  Saturday, November 4th @ 3:30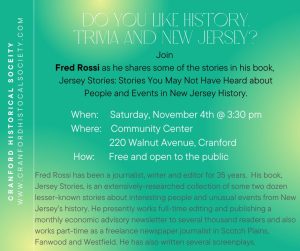 Where: Community Center
              220 Walnut Avenue, Cranford
How:  Free and open to the public
Fred Rossi has been a journalist, writer and editor for 35 years.    His book, Jersey Stories, is an extensively-researched collection of some two dozen lesser-known stories about interesting people and unusual events from New Jersey's history.  He presently works full-time editing and publishing a monthly economic advisory newsletter to several thousand readers and also works part-time as a freelance newspaper journalist in Scotch Plains, Fanwood and Westfield.  He has also written several screenplays.