*Article and photos submitted by Gail Alterman, Cranford Historical Society's Costume Curator
Over the years, the Costume Department has been privileged to showcase items from its Military Collection to honor our Veterans on Veterans Day.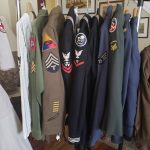 In past years we have displayed uniforms representing both the men and women who have served our country over the past century. Many of the uniforms and related items belonged to Cranford residents. The collection benefited from the dedicated work of the late Robert Fridlington and his 'band of men' who identified and cataloged the uniforms when they entered the collection.
We have often featured our World War I Ambulance Driver Uniform, and similar pieces were recently displayed in an exhibition in NYC at the Bard Graduate Center on French Fashion in the First World War.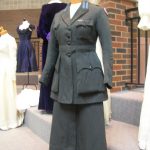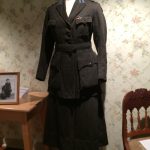 Our WAVES uniform is typical in style and cut of a woman's silhouette during the WWII years.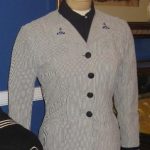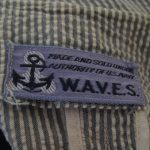 For military wear, we have heavy wool uniforms worn by dough boys in the trenches of WWI Europe, as well as combat and dress uniforms from WWII, Korea and VietNam.  An "Eisenhower-style" jacket, which featured a waist-length jacket, was so named as it was favorited by General Dwight D. Eisenhower, and is pictured below.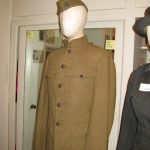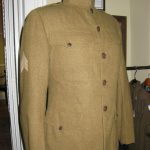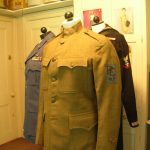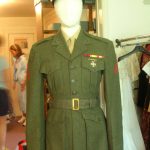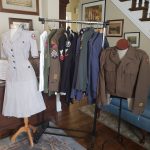 Former Cranford Mayor Ira Dorian (deceased) gifted us his dress uniform he wore as part of the JAG department in the China-Burma-India Theater of Operation.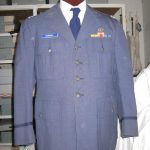 Some of the photos below were from an exhibition in the Cranford Public Library entitled "Hats Off to Veterans" and featured hats worn by many different branches of the military accompanied by photographs from our archives.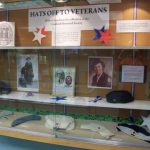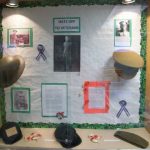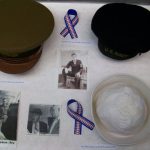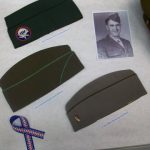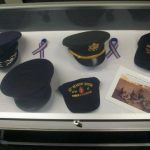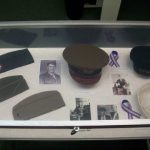 *All images are the property of the Cranford Historical Society and may not be shared or distributed for personal use.