If this past weekend you watched the Kentucky Derby you would have seen a plethora of hats – fancy, unique and perhaps a bit 'over the top' being worn mostly by women.  The Derby, like the British races at Ascot, are one of the few places wear the wearing of a hat is still a part of the event's sartorial ritual.  Unlike today, where many wear hats to keep warm or to protect themselves from the sun,  the wearing of a hat was, years ago, considered de rigueur.  Once upon a time, in the not-so-distant-past it was expected that a woman leaving her house would be wearing a hat.  In "Emily Post's Etiquette" ladies are advised:
               "Shall I wear a Hat?"
                 Not withstanding the continued practice of younger women to go hatless on all occasions, best taste still exacts that in town a hat be worn with street clothes in the daytime….
               Although women in street clothes without hats are seen in our cities, the really well dressed woman wears one except when going into the dining room of her own hotel, particularly for breakfast.  But when going to lunch in a restaurant, a hat SHOULD be worn."
                (From "Emily Post's Etiquette," Completely revised 1945 edition, p. 459.)
This advice, from 1945, notes that "younger women" are going hatless, a trend that will continue as the notion of proper dress for women begins to change in the post-World War II years.
The following is a small sampling of hats in the Historical Society's Costume Collection, of the type that a 'proper lady' would wear out, or for prescribed situations.
Hat for mourning, 2nd half 19th c.
This hat with its accompanying veil was a hat worn for mourning.  For the rising middle class in the 19th c.,  the rules around mourning clothing and customs were often strictly observed.  Today, though the color black is often associated with the 'little black dress,' the color is still worn for funerals.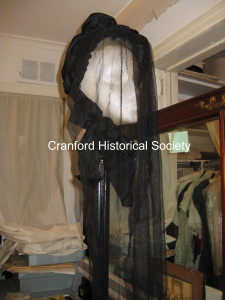 Emily Post, however, in the same 1945 edition,  wrote regarding the wearing of mourning attire that "It is a very healthy sign that the crepe veil is now no more" though she cautions against wearing anything shiny or made of cut velvet when in mourning or to attend a funeral.   People of a certain age, however, will remember Jackie Kennedy in her black veil at the funeral of her husband, President Kennedy, in 1963.
—
Hat, label Hattie Carnegie, c. 1940s
Hattie Carnegie (1880, Vienna, Austria – 1956, NY, NY) was a well known  NYC designer of high end women's clothing.  Born  Henrietta  Kanengeiser, she adopted the name Carnegie as homage to Andrew Carnegie, at the time the richest man in America.  She began her career as a milliner, and later expanded to making women's clothes.
This lace trimmed hat would have completed an ensemble for summer wear.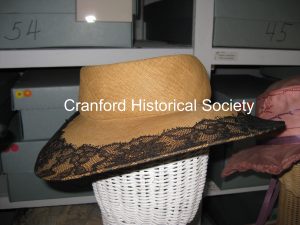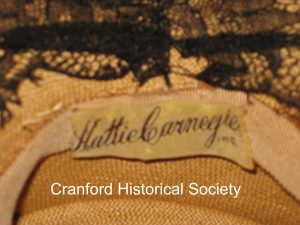 —
Hat, late 1950s, label Beverly Shoppe, Plainfield
This lovely purple hat, embellished with flowers, was sold by a local women's dress shop in Plainfield.  The flowers are made of velvet and satin.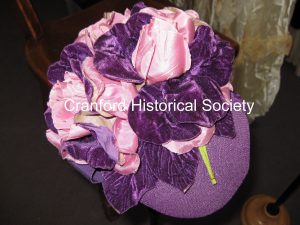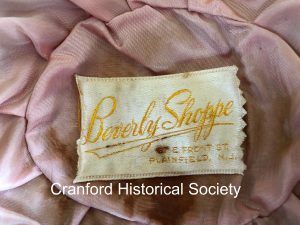 —
Hat, c. 1959-60; Label Bamberger's
A 'bucket' style hat. The stylish wearer would appear, to our modern eyes, to have a flower pot on her head!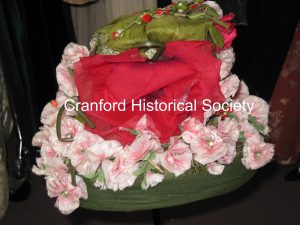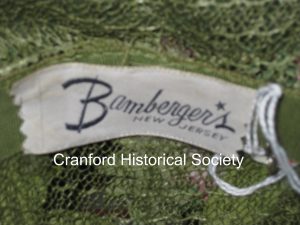 A fashion plate from Vogue, 1959, showing a hat in a similar style: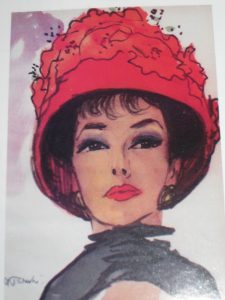 —
And to end our celebration of hats:  this ensemble came into the collection over 10 years ago.  The style of the dress – straight and lacking any formfitting aspects, is typical of the early 1920s when women's fashion abandoned the fitted bodices of previous eras for styles that were considered "modern" – styles which did not emphasize a woman's shape but rather (for a while) serve to hide it.  Although the dress itself, as well as many garments from this time, is sheer, it would have been worn with a slip underneath, either in a specific color to highlight or match the garment, or in a neutral tone.  Many dresses, such as this one, survive without their slip, indicating that the slip would have most likely been worn with multiple dresses, or simply did not survive.  For this example, an appropriate slip was fashioned in the style of the time to be placed under the dress.  The dress and the matching hat date to c. 1920.  With it's wide brimmed hat and lightweight fabric it creates a lovely summer ensemble.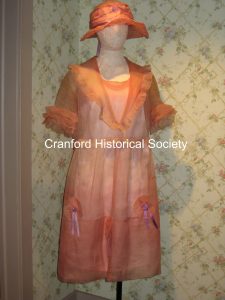 For your further hat enjoyment, this recent article profiled a lady who dressed up every Sunday this past year for virtual church.  For many African-American women attending church, the wearing of a colorful hat is an expression of self, pride and a symbol of a crown placed on the head of its wearer.
"This woman, 82, dresses to the nines each Sunday for virtual church.  Her selfies have become legendary." 
https://www.washingtonpost.com/lifestyle/2021/03/31/sunday-virtual-church-outfit/?fbclid=IwAR2jL8sYgAhpdkYazA-uZSISfDCb6AuBPS_TFOoSYLCm7pNkRYLjDc58hm4
---
Article and photos submitted by Gail Alterman, Cranford Historical Society's Costume Curator.
All images Copyright Cranford Historical Society.
Please do not use without permission.