Article and photos submitted by Gail Alterman, Cranford Historical Society's Costume Curator
—
Over the years, pre-Covid times, the Costume Department would mount a holiday inspired mannequin for the Crane Philips House in December. To celebrate our new website, here are some highlights of past installations.
This women's dress, c. 1855, is one of our earliest complete ensembles. The dress is made out of a fabric that was referred to as a 'ribbon plaid 'due to the colors and design of the material resembling woven ribbons. The wide pagoda sleeves and the full, bell shaped skirt are typical of fashion of the 1850s, and the shape of the skirt is achieved by the use of a hoop skirt underneath.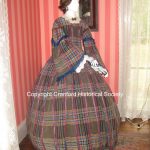 The young girl's dress from the 1870s demonstrates how children's fashion often was designed in imitation of women's fashions. The accentuation at the back of the dress is a direct quote of the bustle fashions popular at the time. This two-piece ensemble is made of a stiff taffeta with velvet trim.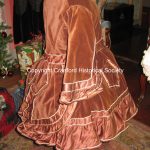 Women's fashions changed greatly at the beginning of the 20th c. and are reflected in these two dresses that cover the time period seen in the PBS series "Downton Abbey." The green evening dress, c. 1910 shows the softening of the women's silhouette which will lead to the eventual non-structured garments of the early1920s. The waistline has risen, and soon the corset, which shaped women's silhouettes for the past century will be abandoned in favor of the new fangled 'brassiere', the forerunner of the modern bra.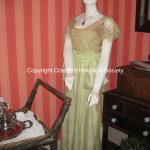 The black dress, dating to c. 1926-27 demonstrates the stark changes women's clothing that resulted at the end of the First World War. It has no defined waistline, and the hemline is knee-length. The dress though only slightly fitted, gracefully drapes the body of the 'modern' woman. By this time, the 'little black dress' has become an elegant part of a woman's wardrobe and loses all of its connotations with black mourning dress of the 19th c.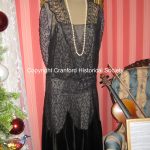 All images Copyright Cranford Historical Society.
Please do not use without permission.